#8-Ranked Charlottesville Cardinals Prepare for a Weekend of Competition at the Herman Key, Jr. Memorial Holiday Tournament
Nov 27, 2017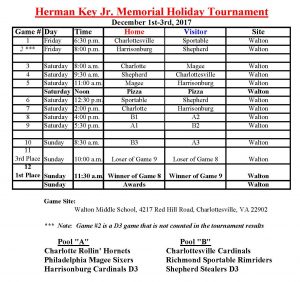 CHARLOTTESVILLE, VA–The #8-ranked Charlottesville Cardinals wheelchair basketball team is preparing for some tough competition this weekend at their annual home event, the 17th Annual Herman Key, Jr. Memorial Holiday Tournament.
Six teams will compete for the tournament championship starting the Friday evening, December 1st, at Walton Middle School (4217 Red Hill Road, Charlottesville, VA 22902).  Bracket play will continue until Saturday afternoon when elimination rounds begin.  The Championship game is scheduled to begin at 11:30 a.m. on Sunday, December 3rd.
In addition to the Cardinals, the tournament field includes the Division II #7 Charlotte Rollin' Hornets, the #11 Philadelphia Magee Sixers, and the #15 Richmond Sportable Rimriders.  Filling out the brackets are two Division III squads, the #13-ranked Harrisonburg Cardinals and the Atlanta Shepherd Stealers.
Admission is free and all are welcome.