Charlottesville Cardinals Host Annual Herman Key, Jr. Memorial Holiday Tournament This Weekend
Nov 28, 2018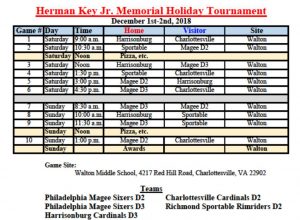 CHARLOTTESVILLE, VA–The Charlottesville Cardinals wheelchair basketball team will host their annual Herman Key, Jr. Memorial Holiday Tournament this weekend, December 1st and 2nd.
Five teams will square off for the tournament crown, including the #7-ranked Philadelphia Magee Sixers (D2), the #14 Richmond Sportable Rimriders, and the #9 Charlottesville Cardinals.  The tournament field will also include the Philadelphia Magee Sixers (D3) squad and the Harrisonburg (VA) Cardinals (D3).  Harrisonburg finished the 2017-18 season ranked second in the nation in the National Wheelchair Basketball Association's D3 division.
The round-robin tournament kicks off at 9:00 a.m. on Saturday at Walton Middle School (4217 Red Hill Road) and wraps up with the final game on Sunday at 1:00 p.m.
Admission is free!